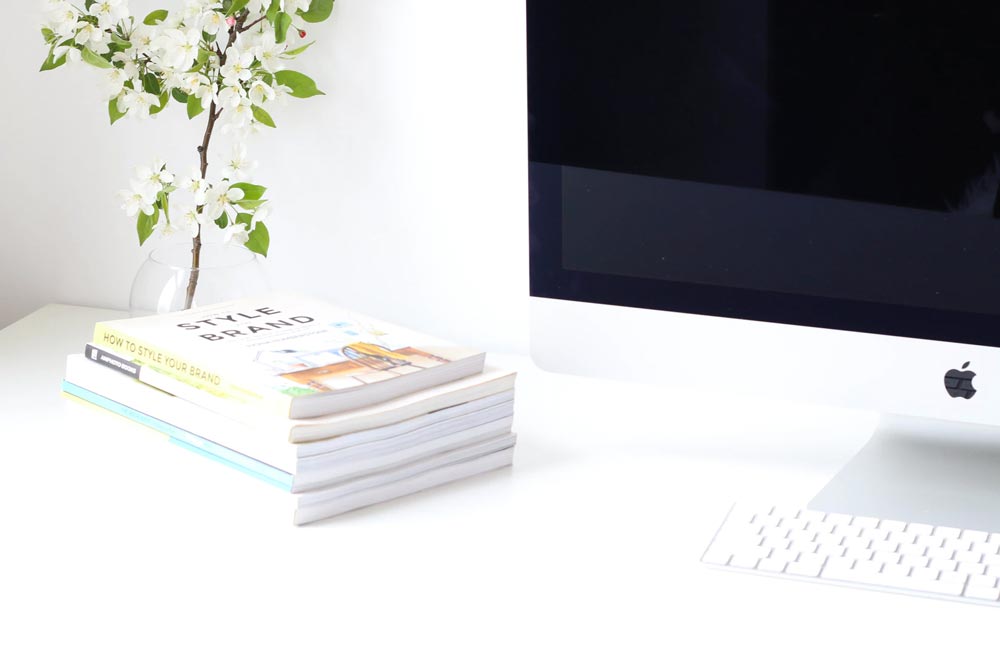 In the competitive world of interior design, one way that design companies stand out is by creating a professional logo. Designers need marketing materials that establish themselves as professional creatives. A logo is one of the first steps to creating a strong, cohesive brand identity and developing unique marketing materials.
Table of Contents
Why Are Interior Design Logos Important?
Did you know that the interior design business is one of the most saturated markets in the United States? In order to stand out from the crowd, interior designers need to make sure that their business has a strong brand identity. Beating out the competition requires showing potential clients more than just your portfolio of home and office interiors.
Before a potential client will actually view your portfolio, they need to be interested. If they happen upon your website, advertisement, or social media banner, you only have a few seconds to convince them to learn more about you.
The best way to do this is to have an enticing and creative logo design for your business. It's an effective, yet quick way to demonstrate who you are before the potential client has had a chance to view your portfolio. You want to visually pull them in before their attention turns to something else. Handing out a business card in person? The same rules apply. You don't want your card to get lost. A memorable business card is much more likely to be kept and looked at again.
Logos for Designers that Convey Creativity
As an interior designer, you are part of a dynamic, artistic, and creative field. It is important that your logo represents your ability to be creative. If an interior designer has marketing materials that seem outdated or underwhelming, then they are far less likely to be considered. A high-quality, professional logo can really help sell a creative business. When you work in a creative field, your logo and marketing materials need to match that. Let's take a look at some interior design logos and discuss how they combine creativity, professionalism, and subtlety to represent their brands.
Vivien Chen Interior Designer Logo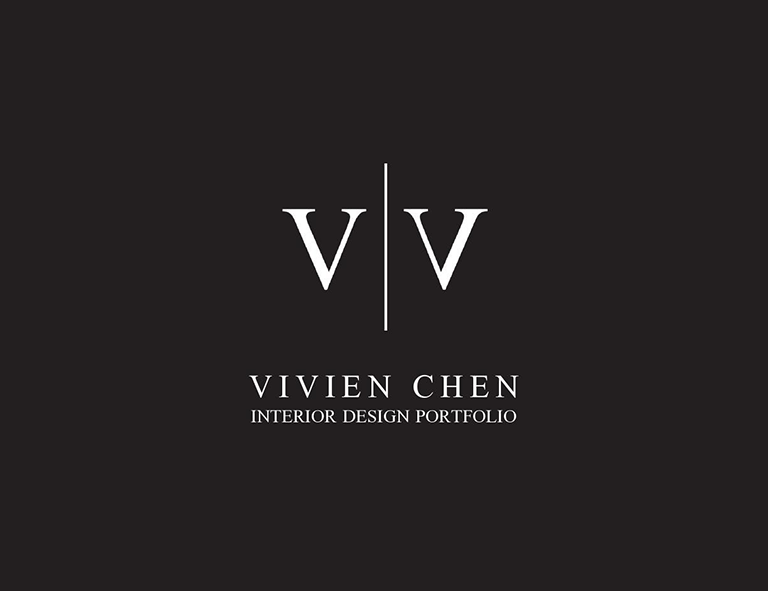 This is an example of a classic, simple, and elegant interior design logo. Interior designer Vivien Chen makes herself the focal point by leveraging a logo that showcases her name. This is always a great option for self-employed interior designers looking to promote their personal attention versus the services of a much larger team.
The use of the monochromatic black and white lends a sophistication to the logo. The feeling of sophistication is also heightened by the use of the classic serif font. Because of its simplicity and minimalism, it's easy to envision that Vivien Chen Interior Design focuses on large homes and works with lots of neutral colors. She has a logo that speaks to her design aesthetic, and after looking at this logo, potential clients should feel confident as they move to view the designer's portfolio. This logo looks like the work of a designer who has flawless design instincts and whose work will speak for itself.
Defiance Concepts Interior Designer Logo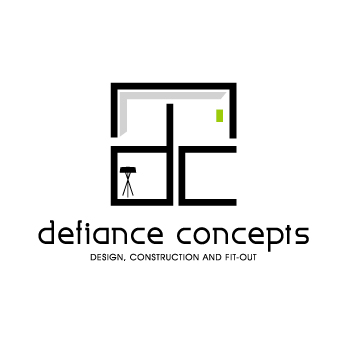 The logo for Defiance Concepts takes a somewhat different approach. This company not only does interior design, but they also work in construction. The logo represents this by focusing on the structure and placement of rooms which are represented by the boxes that make up the letters D and C. The logo cleverly resembles a blueprint, which is often used in both construction and interior design work. The little barstool in the corner is a playful touch that indicates the company carefully considers the furniture they choose and where it is placed within a space.
This logo not only includes the brand's company name but also features a smaller tagline that explains what they do. Sometimes this can come across as too much information in a logo, but it is important to include here so that potential clients know that Defiance can create designs and can also execute on the construction. This tagline may be difficult to read at times, but an alternative logo can easily be created by changing the position and font size of the text.
Cobalt & Copper Design Logo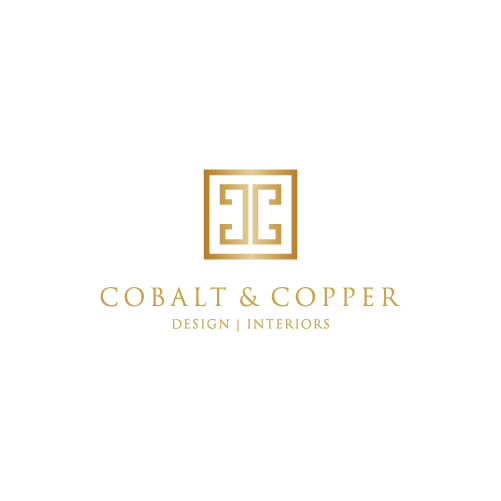 This interior design logo for Cobalt & Copper is classy and unique. It uses a serif font in all caps to project professionalism and sophistication. The color choice doubles up on the air of sophistication while playing off the word "Copper" in the design firm's name. The highlight/shading (aka gradient) used on the logo is a subtle, attractive touch that adds depth.
The image of the two Cs mirroring one another, surrounded by a box, closely resembles a Greek key pattern. This pattern is seen in classical Greek art/architecture and is reinvented in modern furniture design. Incorporating interior design elements into your logo design like this helps convey the vision of your business.
Kevin Kurbs Interior Design Logo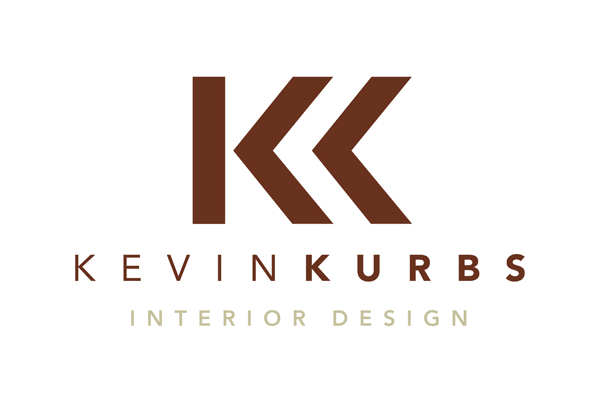 The Kevin Kurbs Interior Design logo focuses heavily on the name. The visual emphasis lands squarely on the double Ks representing Kevin Kurbs' initials. Stressing the repetitive K sound will help with memorability and there's also a great deal of movement throughout the design.
The colors are simple and bold suggesting this company is about clean, modern design. The use of the sans serif font further reinforces the design aesthetic. Placing the "Interior Design" descriptor below the name is important because the logo itself doesn't indicate the industry. Adding this descriptor lets potential clients know exactly what professional services are available. It also is a great way to incorporate an accent color which can be reinforced throughout the rest of the marketing materials.
Curve Design Studio Logo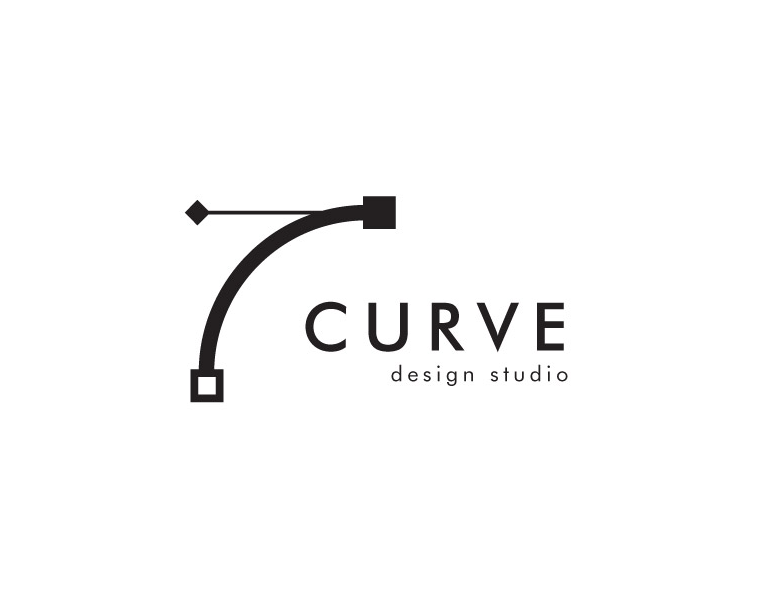 While Curve is a graphic design company (and not an interior design logo), we decided to include their logo in order to talk about the use of elements that are specific to an industry. The Curve Design Studio logo incorporates an image of a curve tool commonly used in desktop publishing software. A comparable approach can be taken with your interior design logo. We can take elements from the field of interior design and transform them into a unique logo design. Real-world elements (that are incorporated in a logo) showcase the artistry and creativity that is inherent to the design industry.
The Curve Design Studio logo features the brand name "Curve" and then adds "design studio" as a smaller descriptor. From the sans serif font to the large curve framing the text, every aspect of the logo revolves around line and shape, echoing the company name.
These are just a few of the many, many creative interior design logos being used around the world today. We compiled this list to give you an idea of the different ways that a great logo can support you and your interior design business. This will give you new ways to think about logo designs that might work for your business. We're constantly adding new articles to our site discussing the different fonts & graphics that are optimal for different industries. Staying up to date on a variety of trends and styles are a perfect way to ensure that your brand remains current.
If these fresh and interesting interior design logos are something you would like for your company, Logo Coast would love to work with you. We can incorporate your ideas, interior design elements, and effective styling techniques to speak to who you are as an interior design professional. We'll dial into your uniqueness as a business by talking with you about your brand identity and brand message. We can look over your portfolio, and if you have ideas about different logo concepts you might want to explore, let us know. We can then go to the drawing board and create something special that is specifically designed for you. Let's work together to create a logo that encompasses your design aesthetic and speaks to your vision as an interior designer.