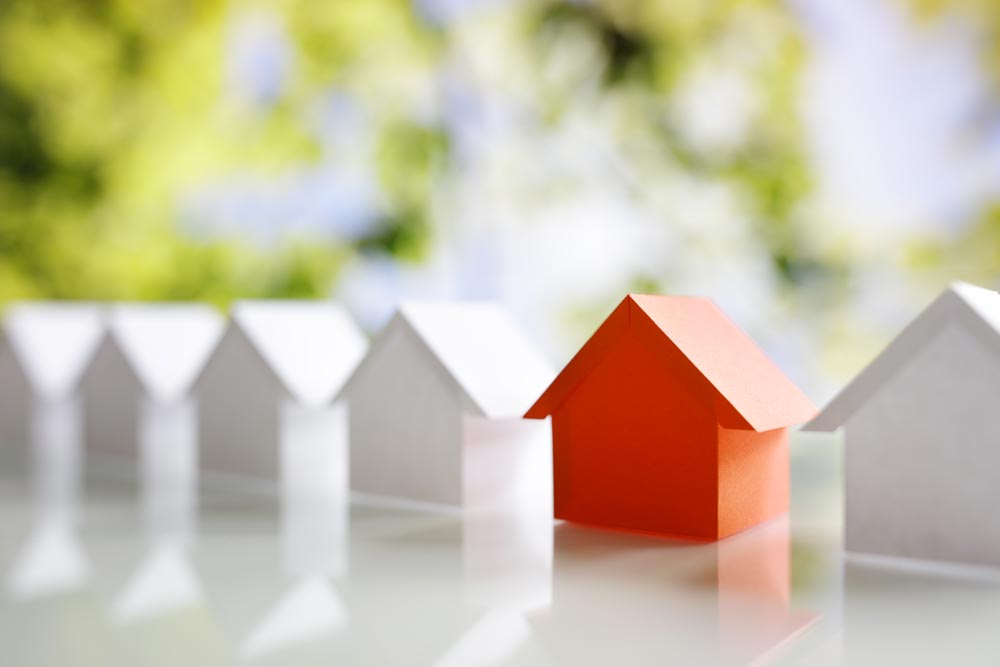 Every successful real estate branding identity starts with logo design. If you're interested in learning about building a real estate brand, we welcome you to read on!  We'll discuss some of the most popular tips and tricks that we've learned after working with top real estate agents from across the country. 
Table of Contents 
Real estate agents are in a competitive but lucrative field. In most markets, agents have to position themselves as an authority. Real estate agents have to demonstrate success through recent acquisitions and sales while also collecting positive feedback from clients. The question is, how does a real estate agent separate themselves when they are performing a function that is virtually identical to other real estate agents? How does a real estate agent stand out from the crowd in a busy, saturated field? 
The answer is branding. Branding is not only important for Fortune 500 companies or new start-up businesses. Branding is critical for any person in any field who has to sell themselves and their work. 
Start With Your Differentiating Factors 
This is one of the most difficult parts of discovering your branding angle as a real estate agent. You need to be able to identify what makes you different. In many ways, good agents are the same. However, when a prospective client is looking for a real estate agent, they need reasons to choose one over the other. You want to make sure that you not only know what these reasons are but that you showcase them throughout your branding. 
One area to look for differentiating factors is in industry/relevant experience. Do you thrive at selling homes for over $400,000? How about homes under $400,000? Are you especially familiar with a particular neighborhood? Do you understand a difficult aspect of the sales process that other agents have a hard time explaining? What are your strengths in terms of what past clients have said about you? What did previous clients love most about your service? Try to isolate one or two qualities in particular that seem rare in your particular area. Qualities that perhaps another real estate agent might possess, but they wouldn't necessarily highlight. Qualities that others might be good at, but that you are incredible at. 
Don't Reinvent the Real Estate Wheel
Another important aspect of branding for real estate agents is leveraging what already exists. Why try to reinvent the wheel when you don't have to? There are universal qualities that separate top real estate agents from the competition and they include traits that every blog, article, and advisor tell their prospective clients to look for. 
So what are some of these qualities that contribute to a solid real estate agent? The basics include a sense of authority, knowledge, attention to detail, and a go-getter attitude. These qualities should be present across all your branding materials. Share your experience and your success stories.  Share your failures and how you've learned from them (people love transparency).  If you send out any branding materials, double and triple check your work. Be meticulous about all correspondence. Clients are entrusting you with years worth of hard-earned money and the hope of buying a new home or selling an existing home. They absolutely must know that you're up for the job.  
You must demonstrate that you understand every aspect of the real estate market — way better than most — and that you understand the intricacies of the selling process. Can you easily explain to clients what to expect? This is a quality that is greatly appreciated and consistently valued by the public. 
When it comes to a sense of action/urgency, sometimes this requires a bit of finesse.  You don't want to come across as anxious or rushed, and you just as well don't want to come across as too patient or borderline passive. Decisive actions and confidence go a long way.  
It's important to remember that a sense of action doesn't mean you should ever pressure your client. Be proactive. Come prepared, and continue to reveal the path ahead. Anticipate the needs of your client and let them know you're ready to take action when called upon. If they ever do ask a question (or for info regarding the next step), you should always be ready. 
Decide on a Color Scheme That Represents You 
Too often, we see real estate agents overlook the importance of color palette when it comes to branding. Why do colors matter?
For starters, there is a great deal of science behind color psychology and how colors invoke subconscious feelings in prospective clients. In addition, as a real estate agent, you are marketing yourself. Not only are you representing a business, but the branding is a direct reflection of you.  This also goes hand in hand with the confidence factor mentioned earlier.  If you choose colors to represent yourself that do not flatter your overall presence/appearance, it will likely lead to a disconnect with the customer. 
What happens if you're part of a larger team?
Sometimes you can't fully commit to your own personal color scheme because you are working for a larger real estate firm. In this case, while you might be locked into a provided color scheme, there's usually some leeway as far as choosing to identify with one color above the rest. You also might have the ability to slightly shift the palette to something that is more flattering (by adding a neutral to your real estate firm's original color scheme). Using your real estate firm's original color scheme and then adding a beige, white, black, or gray tone can certainly provide some flexibility while remaining true to your core. 
If you aren't sure how to select the right color scheme for you, never fear! This is one of the many areas where professional graphic designers excel. You can always contact a graphic designer to help pinpoint the ideal color scheme for your business and start to create materials that reflect that choice. 
Hone Your Target Audience 
As part of any branding process, it's always important to know your data. Do you love high rises but work two hours outside of the nearest metro city? If you aren't logistically capable/efficient at catering to a specific niche, then fade it. It's tempting to try to provide a never-ending list of services, but that's just not realistic. Pick a few areas of focus and master those before methodically expanding to other markets.  
What is the average household income in your area? Age? Marital status? Parental status? What types of industries and jobs are the most prevalent in the area? What are the market trends? Who are the types of people working around you? What are the values, traditions, and cultures like in your area? 
As you move towards making marketing decisions, you want to hone your craft and target audience. Think about who you want to attract and who you can offer the most value to. Create a profile of your ideal client. Make sure that in addition to this ideal client, your profile includes a range that makes sense. For example, if your ideal client is 35, would you also want to target ages 30-50 or ages 25-45? Setting your targets will help you know who to market to later on when it's time to put yourself out there. You don't want to waste time with higher ad costs and low click-through rates that won't attract clients. You want to get the most bang for your buck and that only happens when you 1) have incredible marketing materials that accurately reflect your value and 2) create targeted ads (targeted messaging, targeted audience) that draw in clients. 
Focus on Your Logo Design 
Your logo design heavily contributes to the first impression that your clients and prospective clients will have when they come across your marketing materials. It should represent you in the best light. You want viewers to have a positive association with your logo design. This is typically a subconscious reaction, but studies have shown that these snap judgments follow brands throughout the life of the company. Instead of working to change the mind of someone (who has an initial negative perception of you), why not start off on the right foot? 
Focus on securing a positive high-quality logo design before you move on to other branding materials. Building a branding identity around a subpar design can quickly turn into a slippery slope as you develop a set of designs that all will need to be recreated down the road. Your logo design will serve as the foundation for all of your other branding materials. When you seek out your logo designer, make sure that you share your ideas about your vision. Make sure that they understand who you are and what you plan to achieve. This will ensure you receive the best real estate logo design for you and your image. 
Another tip? Don't be shy. Be personal and embrace your identity. It's very possible to create a stylistic image that captures some of your personal features.  Logo designers have a variety of ways that they can take your face, upper body shot, or full body shot and convert it into a logo design that is cohesive and memorable. This is critical since studies have shown that clients are more likely to choose real estate agents that they can visualize doing business with. They don't want someone who is mysterious or unidentifiable — they want someone they can picture touring homes with, someone who can answer serious financial questions, and someone who will guide them through the process. They want to feel a friendly rapport and you want them to remember your face — so why not combine all of the above and let that be the first thing people see?
Acquire Branding Materials 
The final step in the branding process is to start acquiring your branding materials. These materials include your website, graphics, social media marketing (ads, profile photos, headers), email marketing (templates, images), and your physical traditional marketing materials (newsletters, letterhead, envelopes, signs, stickers, etc). Once these are prepared, you are ready to begin disseminating information and attracting new clients. 
Take the time to really plan out your marketing strategy.  Throwing together some business cards and flyers without due diligence is pointless.  Not only will they not convert well, but they could even wind up damaging your brand in the long run. Your marketing materials should benefit your business — not harm it. 
Ready to begin your branding venture? Please feel free to contact us, as we've successfully worked with a wide variety of real estate agents in the past. We would love to walk you through the design process and help get your identity on track. Logo Coast is here to help you market your real estate business with the most effective marketing materials.